Testimonials
| | |
| --- | --- |
| | Brush, Colorado |
When a couple of his Brush, Colorado, neighbors commented that T-L center-pivot sprinklers were sometimes a little more expensive than other brands and asked Pat Draegert about his decision to install a 1,763-foot-long T-L system, his answer was short, and simple, "I can't afford not to run a T-L!"
His answer was based on his experience with his hydrostatic T-L and past familiarity with four electric center pivots he didn't own, dating back to 1978.
Draegert farms 400 acres of corn that annually averages between 165 to 185 bushels an acre and alfalfa producing five tons an acre. He also runs a 300-cow commercial beef herd in addition to operating a custom hay business. He farms some of his land conventional-till and some minimum-till.
The reason he installed the T-L system was his need to spread out his work load while still getting his fields irrigated properly, all this while using less of his increasingly regulated water supply.
For example, the land he still flood irrigates has half-mile runs. It takes 18 to 20 hours to run a set, putting on close to six or seven inches of water. On the other hand, he points out, "With my T-L I can control application to as little as a half-inch per circle with much more uniform distribution."
And, as for the value of his investment dollar, putting in his T-L probably doubled the value of his property where it makes its circles, according to Draegert.
Before investing his bucks, he studied the various brands of center-pivot systems available. Then he toured the T-L manufacturing plant in Hastings, Nebraska.
"I became convinced that T-L builds its center-pivots with the user in mind–they're user-friendly," Draegert explains. "I believe the T-L is designed with a great deal of thought. A T-L is a good machine, and not one just put on the market to be a money trap."
The feature he was most attracted by was the T-L center-pivot's continuous movement.
"I prefer the hydro static drive system with its continuous movement over the stop-start of an electric unit," Draegert says. "I do like the water pattern a lot better than what I've seen on competitive brands of sprinklers.
"Also, in my real heavy soil, my T-L doesn't dig into the ground and make as deep a track as do the wheels of a stop-start system. I think anyone using an electric will have more gearbox wear and problems due to all the stopping and starting, too."
While making his buying decision, he visited with users of competitive machines and became convinced that a T-L would require far less maintenance. A satisfied T-L owner told him that he got 20-some years of service before he had any significant repairs to his system.
"I also like not having that high electrical voltage around when working on my T-L," Draegert says. "If I climb a tower to adjust a nozzle or whatever, I don't have to be worried about electrical problems or possible electrocution.
"Speaking of electricity," he adds, "by installing a T-L I didn't have to pay for an electric power line."
Rather than fertilizing or side-dressing separate field operations, Draegert is applying fertilizer during the growing season via chemigation through his T-L system. The T-L also provides the option of applying an insecticide if the situation requires.
"I've had from 'really good' to 'exceptional' service from my T-L dealer, too," he comments. "All in all, T-L makes a good machine."
| | |
| --- | --- |
| | Pavillion, Wyoming |
In Richard Klein's opinion, "Other sprinklers look like tinfoil compared to a T-L. There's just more iron in a T-L, and it appears more solid."
"Like any machine, even T-Ls may break down in time," he adds. "However, T-Ls will last longer than any other system on the market. They 'age' more gracefully, and they appear to hold their value longer than other center-pivot systems."
Klein remembers his father commenting about a brother who would always use a 2×2 in place of a 2×4 board. The point, he says: "Maybe it will work. Maybe it's cheaper. But, the 2×4 will last a lot longer. I kind of feel that way about T-L center- pivots."
Richard farms 480 acres of irrigated alfalfa hay, malt barley, and sugar beets near Pavilion, Wyoming. His farm in the Wind River valley area looks like an oasis located in the midst of a virtual desert.
The explanation: His farm is at 5,400 feet elevation and receives only five to six inches of rainfall in an average year—and barely two inches of moisture annually in the past seven years. He has to apply almost .40 inches of water a day during the growing season.
Klein explains that drought has pushed him more and more toward sprinkler irrigation and he's found that sprinkler irrigation requires almost twice as much water as pivots do. So, he now utilizes 5 T-L systems, varying in size from 2 to 14 towers, to do most of his irrigating.
"I started looking at center- pivots back in 1995 from several angles," Klein says.
"One was an economic decision, since a center-pivot sprinkler will raise more crops with less water. This is even more important when drought cuts the number of acres you can flood irrigate to half or two- thirds of normal. There's just not enough water available."
"The second was more of a "quality of life" decision. I know my body can farm a lot longer using center-pivots than it can using gated pipe. I'll be able to stay on the farm longer than if I'd had to continue with a sprinkler irrigation system."
Another reason was his observation that center-pivot water distribution patterns don't suffer as badly from windy conditions as other methods of sprinkling. After deciding to gradually switch to center-pivot usage, it became a matter of which brand to install. As Klein notes, there are three reasons he ended up with T-Ls.
"For one thing, when you first stand under a T-L tower and look up at the valve that adjusts the speed of each tower, the degree of simplicity appeals to me."
"Once I became familiar with how easy it was to adjust or align a T-L with a pair of vice- grip pliers and a 9/16-inch wrench, I was further convinced that hydraulic center-pivots were the way to go."
"Also, I didn't need a degree in electrical engineering to fix the few problems that arose."
Klein reports that after he's shown some other farmers how simple T-Ls are to operate, they've all purchased T-Ls.
Further, Klein thought mixing 480 volts with water was a "recipe for disaster."
"While all center-pivots have problems, I prefer my problems to theirs," he continues. "I can repair virtually everything that needs work myself, resulting in minimal downtime with a T-L."
An exception was when a hired man hooked a tower wheel with a disk-ripper pulled by a 200-horsepower tractor. This accident bent the T-L unit into a sort of corkscrew shape.
The good news was that Keith's T-L dealer was there making repairs just as soon as all the necessary parts were delivered from T-L.
"I think T-L dealers are kind of like the Maytag repairman when it comes to being busy— or rather not busy—doing repair work," he says.
"They make their money selling complete systems, not servicing and repairing them. That's probably why some dealers of other brands can sell a center-pivot a little cheaper, because they know they're going to be back year-in and year-out."
| | |
| --- | --- |
| | Ten Sleep, Wyoming |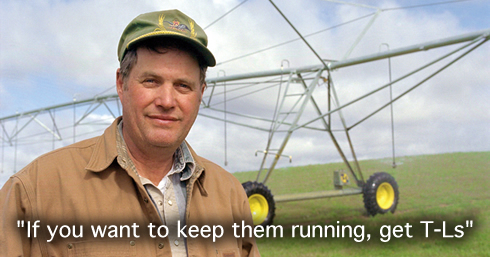 Covered wagons carrying hardy pioneers across the gently rolling plains to homestead land in the barren wilderness….
Surprisingly, not all the homesteading was done in the late 1800s. Thanks to the Desert Homestead Act of 1970, the parents of Casey Johnstone's wife were able to "prove up" on their homestead near Ten Sleep, Wyoming, and later buy out several other homesteaders.
With average rainfall only in the high single digits, irrigation has always been a necessity for the operation's success. Thankfully, they could tap an artesian well for some of their irrigation water requirements plus two 4,000-foot deep wells that each produce 1,000 gallons a minute.
Thirty years ago, Johnstone's father-in-law, who was then farming the Buffalo Creek Farms' land, began installing electric center-pivot sprinklers. Quite long in tooth now, the five systems remaining are highly subject to repeated break-downs and repairs.
So, six years ago Johnstone replaced one electric system with a hydrostatically powered T-L that irrigates 140 acres. Three years ago he installed a second T-L, and intends to replace all the remaining electric systems with T-Ls as soon as conditions allow.
His main crop is alfalfa. He feeds his lower quality hay to his 150 head of Angus-cross cows and their backgrounded calves during the winter and sells the high end of his hay on the open market. The average yield he harvests is five tons per acre annually. His other crop is malting barley that averages 80 bushels per acre.
Johnstone generally applies one-third inch of water per day during each three-day rotation on alfalfa. Thus in a typical irrigation season of 90 days he'll apply 30 inches of water. However, since he can run his T-Ls when it's as cold as 25*F, he sometimes irrigates right into October.
"Why did I start buying T-Ls?" he asks, then he quickly answers by emphasizing, "No more electric systems for me! It seems I'm always fighting with these darned electric pivots, and it's so hard to hire somebody to come 'way out here to fix them. It's too easy to be down a day or two, or even as long as five days, just trying to figure out the problem.
"And, electricity is dangerous," he adds. "You can't see it, and if those 480 volts nab you, well, you've had it. Electricity and water just don't mix."
On the other hand, Johnstone says he likes his T-Ls for their hydraulic simplicity, which makes them "a heck of a lot different" from the electric systems he's running.
He figures that when any repairs will be needed on the T-Ls that he can do it himself. As he points out, he originally put up the two T-L systems with the help of two other men, which saved him some money. He wouldn't have even attempted to install an electric system.
"I need center-pivots that are dependable," he stresses with a glance at the vast, sagebrush-covered, BLM areas surrounding his farmground's pivot circles. "That's why I like the hydraulics of the T-Ls; if you want to keep them running, get T-Ls."
Whether it's due to the continuous movement of the T-Ls or other factors, Johnstone's hay harvest records indicate a 20 percent higher yield of alfalfa under a T-L compared to a similar field running an electric unit.
Also, Casey observes that "Stopping and starting all the time makes a lot of difference in the amount of wear and tear on a sprinkler."
Every center-pivot sprinkler makes tracks, which, depending on the soil type, can become ruts that guarantee a bouncy tractor or pickup truck ride that is hard on equipment, plus a too deep rut can also cause a tower to get stuck.
Johnstone has solved this problem by filling the wheel tracks of his sprinklers with gravel and then farming the land in circles rather than straight rows.
"This requires roughly 700 cubic yards of gravel for each pivot." he says. "Yes, that's a lot of gravel. But, my fields are so nice to drive across now and there's no danger anymore of a tower getting stuck."
| | |
| --- | --- |
| | Fort Garland, Colorado |

"Our experience with T-L maintenance and reliability has been incredible. I don't think we've ever had to order any parts. They've been really efficient and effective." That's how Ty Ryland sums up his experience with his five T-L center pivots since the first one was installed six years ago.
As General Manager of the Forbes Trinchera Ranch at Fort Garland, Colorado, he has responsibility for 175,000 acres of deeded land in the San Luis Valley. This includes 3,500 acres of sandy loam ground irrigated from creek water. The ranch's earliest water rights date back to 1891. Five hundred acres have been converted from flood to sprinkler irrigation. Two of the T-L's are on native grass/alfalfa mix, two grew oats their first year before being seeded to alfalfa, and the other was always on alfalfa.
"Our T-L's have allowed us to make the ground more productive than it was before. On flood-irrigated ground, we're lucky if we can grow one to two tons of native hay an acre. With T-L's, we can get up to five tons of alfalfa an acre," he points out. "Now we have a crop that will generate some revenue."
Ryland sees a lot of important advantages to using center pivot irrigation versus flood irrigation for the ranch and growing profitable alfalfa. "We can keep the ground wet and cover it a lot quicker thanks to better water utilization," he says.
"In a 48 hour period, a T-L can put on an inch to an inch and a half of water, and as soon as the medium size square bales are off the field, we can be watering again right away. With flood irrigation, that water would be in that field for four or five days, which could prevent us from getting into that field again."
Ryland or one other man can run his five T-L's by himself. Handling the same amount of land with flood irrigation would require from two to four additional men. "The big thing, though is that with the T-L's, we don't have to change water during the night. They're always continually moving, and we don't have to worry about them," he says. "It's so much easier to just start an engine to begin running water across a field than it is to flood irrigate it."
Flood irrigation requires a great big head of water to get out across some of the fields. Ryland estimates that, "our T-L's are probably doing better than halving the amount of water we'd otherwise have to apply if flood irrigating the same ground."
It's a lot cheaper to be able to fertilize through the T-L's than it is to have to apply a granular fertilizer. Ditto chemigating alfalfa against cutworms, a problem with no really effective solution on flood irrigated land.
Rather than having a stand last only three to four years, now it looks like a five to seven year stand life will be more typical of T-L-irrigated alfalfa. Ryland attributes this to greater consistency of water delivery that prevents plants from dying out.
T-L's are more practical to set up, they can be driven by several different power sources. These include diesel or propane power remotely or at the pivot point. Power sources can also be as well engine and single or three phase electricity.
The ranch is running four diesels, they could construct one pond and pipeline to serve two pivots. This cut installation costs.
"Safety is an issue for us," Ryland comments. "I worry about electricity and our employees. This is a big factor. It's sure a lot safer to work on a hydraulic T-L than it is to work on an electrically powered sprinkler."
He and his men can do all the maintenance and, if necessary, make repairs themselves – all without having to call for help from far away.
"Our T-L's are so dependable. You start 'em one day and you go back the next day, and they're still running, and the next day. I'd be willing to compare our maintenance records with anybody else's. I know we're cheaper in the long run," he says. Thanks to the system's continuous movement, Ryland thinks that a T-L has less tendency to get stuck in wetter, muddier ground than a stop and start electric center pivot.
"These T-L's have been a good investment for us. We can make a return on them between five to seven years, depending on how rough the ground is. That's not too bad of a deal, is it? Our T-L's have been so extremely productive and such a great value for us, it would be difficult for us to consider anything else."
| | |
| --- | --- |
| | Montrose, Colorado |
"Nothing drives off, it walks off," is Randy Meaker's way of explaining that he markets all his 400 acres of crops through cattle. He has a 1,000 head capacity commercial beef feedlot that specializes in replacement heifer development and feeding stockers from 400 to 800 pounds in weight.
"This is our way of ending up with an added value product," he says.
With less than ten inches of annual rainfall, irrigation has been a must since his grandfather began farming the Montrose, Colorado, land in 1916. Until 2003, that meant furrow, or gravity, irrigation.
In addition to the usual problems of furrow irrigation, inefficient water usage and heavy demands for labor, there have also been some special area concerns:
First, there is the necessity of removing virtually all residues to ensure water flow down the rows. Second, controlling the run-off from the shale and clay-type soils that trigger an influx of salt into the Colorado River, a major concern for those farming downstream.
Meaker's first T-L experience convinced him that he could now "double crop". This was something he'd always wanted to do but couldn't with furrow irrigation.
Last year, under this first pivot, he raised 3.85 tons of dry triticale hay on one cutting, then that fall harvested 33 tons of a full season corn, silage variety. Then he followed with a reseeding of triticale.
"On both crops we got a 20 percent increase in yield with the T-L over furrow irrigation-plus made double-cropping work", Meaker points out. He thinks there are a number of reasons for this:
"First, since the sprinkler doesn't care about residue blockage, we could leave more residues to act as a wicking agent on these clay-type soils, "he points out. "There wasn't the usual super-saturation at the upper end of the field and not enough water at the lower end."
"There was no guessing involved either. We knew exactly how much water the T-L pivot consistently and uniformly was putting on all the ground. And, we could keep on irrigating."
"With furrow irrigation, he says, it's all a continuous cycle of flooding the crop, then drying it out so you can flood again. However, with the T-L evenly applying an inch of water every three days, neither crop ever went into a stress mode that could hamper yields."
Then there's the labor factor difference to consider. As an illustration, Meaker points to his comparison of watering 29 acres of triticale under his first "demonstration" T-L and four adjoining acres under furrow irrigation.
"The T-L center-pivot system irrigated and caused the triticale to germinate in just 27 hours," he notes. "By comparison, it took us four days to get across those other four acres due to the usual constraints of furrow irrigation. The T-L also provided substantial labor savings."
Another point: Furrow irrigation makes broadcasting dry fertilizer in the spring the only practical means of application. And, of the 200 units of nitrogen applied, maybe only 100 units can ever be utilized by the growing plants, since there are "wet" rows and "dry" rows.
Conversely, the T-L pivot allows "spoon feeding" foliar applications of fertilizer. The result, according to Meaker, is close to 100 percent usage of $350 a ton fertilizer Meaker has another, even more startling example of center-pivot cost-savings. On his furrow-irrigated land, he has to complete seven field operations before it's suitable for planting.
Contrast that with strip-tillage under a T-L that not only provides beneficial residue, but allows him to plant with just two field operations. As he says, "That's saving of a lot of time, maintenance, repairs, and $4-plus diesel fuel."
Meaker reports that T-L's simplicity appeals to him, as well as the fact that his original system "Has needed absolutely zero adjustments from day one. It's been absolutely trouble and maintenance free."
He says that he gave no thought to trying an electrically driven system after his successes with his first T-L. In addition, while three-phase power is available, it's approximately three times as expensive as diesel fuel.
A T-L, to Meaker's way of thinking, is not any more costly than a tractor. As he says, "Our T-L just becomes another tool we can use. And, in the process of its use, we can eliminate so many other tools, plus labor."